Frequently asked questions
We have gathered sections with questions and answers in the most common areas to quickly help you as a customer or visitor. If this has still not solved your questions or concerns, please reach out to our customer support, support.merchandise@volvo.com.
HOW TO BUY
Who can access the shop?
Business Purchase (B2B) is open for all business areas within Volvo Group as well as for extended dealers and partners with Volvo accounts. Employee purchase (B2E) is available for all Volvo Group employees within EU. For other markets, switch to the landing page by using the globe symbol on top menu.
How does login work?
We use a safe and simple method called "single sign on". It means that when you have logged in on your Volvo Group device with your Volvo Group credentials, you are recognized and will be sent to either your customer account if you are registered, or to a general business or employee page where you are obliged to register for B2B order or select a delivery country if you are a B2E customer.
If you belong to a Volvo Group extended network (Volvo Dealer Network, VDN) or if you use a private device or enter via Firefox browser, you may have to login with your credentials. Dealer locations login using their VDN credentials to enter the shop. Alternative you can also login to your dealer portal, open a new tab and by entering the shop URL to come straight to the merchandise shop.
Am I logged in as a business or employee customer?
You are asked to choose market and login type at the start page. After selection, your choice will be kept in browser cookies for a month or until you clear cookies. Next login will therefore be preselected but you will be informed about your login each time and you can easily switch between the accounts in the top menu. You can see your login type under "My Account". If you don't have the choice to login as employee, it means you are outside EU and cannot shop as an employee.
What is the difference between business and employee purchase?
The difference between Business (B2B) purchase for your company and Employee (B2E) purchase is that you purchase on your company account as B2B and need to register for an account before placing your first order. If you order to a delivery address within EU, you will pay a fixed freight cost and if your destination is outside EU the freight cost will be based on weight and volume and destination. As a business customer you will also have a broader assortment of corporate merchandise to choose from. B2E purchase is open for all visitors within EU, freight is free of charge. You need to preselect your country to be charged with the correct VAT. You pay with by credit card, and you do NOT have to register. An account is automatically created at the first purchase, and you will enter it directly by choosing B2E login type.
How can I purchase via EBD?
We are connected to EBD order system, select option EBD customer when registering as a customer. Note that you must create your EBD account separately in the EBD system since this is not managed by Volvo Merchandise AB. Once connected, start your EBD roundtrip, and make sure to pick Volvo shop or Renault Trucks E-shop routing as Volvo Merchandise AB is the supplier for both web shops. You will be routed to the shop of your selection, to finalize your purchase.
Follow below steps
Log in to EBD
Make sure you have an active account and that you are registered as an EBD user in our web shop. Contact Customer Support  if you're not certain about this.
Click "New Shopping Cart", Click the "RoundTrip" tab.
Select Volvo Merchandise as supplier and Volvo shop or Renault Trucks E-shop in the following steps depending on shop you would like to purchase from.
You will now be redirected to Volvo shop or Renault Trucks E-shop based on your selection.
Place your order as usual.
Go to check out and complete the order.
When you click "Reserve Order" you will be redirected back to EBD and you will now notice that your EBD shopping cart contains all items from the web shop.
Finalize the order in EBD and send it for approval to your manager.
Important! The web shop order is reserved until we get the Purchase Order number in an automated e-mail upon approval by your manager. Once we get the Purchase Order number, we will put it on the order and send it for picking and packing.
If you log in to the web shop as an EBD user and start placing an order, you will be prompted to go through EBD RoundTrip instead. Note that your shopping cart in the web shop will remain intact so all you will have to do is to go through steps 2 to 7 and resume at check out.
How can I shop items with sizes in a quicker way?
Enter the product and choose "switch to quick shop view". This will open a view, enabling direct selection of quantity per size and color. Easy and efficient when placing orders with various sizes and/or colors.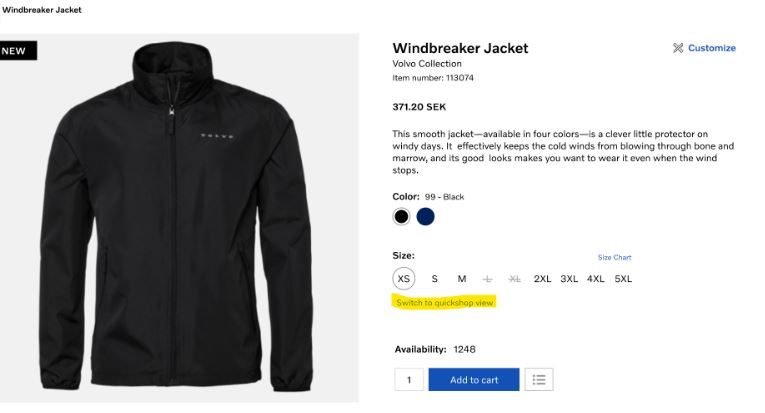 PRICES & PAYMENT
How can I see my price?
Business customer
When logged in as a B2B customer, all price listings are excluded VAT (value added tax), this is added in cart for Swedish customers. If you have any discounts this is already set in the price you view. Promotions are set with an old price and the new price. Any delivery fees will be added in checkout (see DELIVERY for more information). We offer SEK and EUR currencies. Which currency you get is determined by the company you represent (only valid for Business purchase) and this setting can only be changed by customer support.
Employee customer
When logged in as an employee customer, all price listings include VAT of the country you selected. All prices have a 20% discount already deducted in the listings compare to retail prices.
Will additional fees be added for order outside EU?
Volvo Merchandise AB is not responsible for import taxes, customs fees or any other similar charges when shipping outside the EU. You as customer is responsible for paying these fees regulated by the country of destination's laws and regulations.
What are the payment terms for business purchases?
EU Volvo Group companies have payment terms of 20 days, EU Volvo Group dealers have 30 days and companies in the rest of the world have 45 days.
How will I receive my invoice as a business customer?
The payment for B2B customers will be issued with an invoice, which will be sent to you by mail. You can also choose to apply for PDF invoicing, contact our Customer Support to apply. Overdue payments will be charged a 10% yearly interest rate of the invoiced order value.
What payment options are available for me as an employee customer?
Employee customers pay with a credit or debit card, VISA or Mastercard.
DELIVERY
What is my expected time of delivery?
Business purchase
Sweden, Finland,Denmark: 1-3 days
European Union, Norway: 3-5 days
Europe (outside EU): 4-6 days
Global delivery: 8-12 days
Note! Estimated dates are after working days after receival of order confirmation.
EBD USER: The EBD Purchase Order needs to be approved by your managed before the order is sent to our warehouse for picking and packing.
Orders placed before 11am (CET) will be processed and shipped the same day during normal business hours, Monday to Friday, excluding weekends and bank holidays.
Employee purchase
Delivery is 7-14 days.
Can I track my orders?
You can track standard business orders, you will receive an email with tracking number or view your tracking under "my account" section.
It is not posible to track Employee orders at the moment.
What are the delivery costs?
Business purchase
Standard Delivery
European Union & United Kingdom: 250 SEK/25 EUR
Outside EU: Freight cost will be based total weight, size, and destination, which will be calculated in the checkout before confirming your order. Calculate your estimated freight cost.
Employee purchase
Free shipping cost for all customers within EU.
Do the prices include import duties?
No, import taxes and/or duty costs may be applied according to current laws of the country where the goods are delivered to and are charged by that customs organization, not by Volvo Merchandise AB.
Can I get express delivery?
We do not apply express delivery as a checkout option, but you can contact Customer Support to request this option when needed.
I would like a certificate of origin or ATR, who should I contact?
If you need any help with documents, please contact logistics.merchandise@volvo.com for assistance.
RETURNS & CLAIMS
What is your return policy?
You may return any products you are not content with, business customers within 10 working days, and employees within 14 working days, counted from when the goods were delivered to you.
Your items must be unused and in a re-sellable condition with its original packaging. Follow the below steps for complete your return order.
Fill in the return form.
Send the form as an attachment to support.merchandise@volvo.com  and please state: Return + your order number in the subject field of the email.
Wait for further instructions from Customer Support. 
Can I return a product with a customized print?
No, it is not possible to return an item with an added print or other customizations.
If I want to return an order, what are the costs?
You as the customer is responsible for paying the return delivery for any products that you want to return.
When can I expect a refund for my returned items?
If your return is approved, you will receive a full refund of the product on the same payment method used for purchasing the item within 30 days.
I received a damaged or incorrect item, what should I do?
You as the customer should inspect the condition and make sure that the delivery is complete and undamaged. As a business customer we need your complaint no later that one week after delivery. Employee customers falls under consumer law allowing for claims to be made 3 years post receiving the delivery. If you want to submit a claim, you must contact Volvo Merchandise AB as soon as possible after discovering the fault. Please follow the below steps:
If possible, take a picture of the claimed article(s).
Send an e-mail with images attached to support.merchandise@volvo.com 
In order to make a correct evaluation, keep the product, product packaging and transport packaging until the claim is finalized.


How will I be compensated for claimed products?
If we establish that the claim is valid, we will replace the defect product with a new product, rectify the fault or refund the product price. We aim to send out new or repaired products within 30 days of receiving the claim. If we see a need to return the damaged product to us, Volvo Merchandise AB will pay the return shipping cost.
What if there is a dispute?
If you as a private customer (employee customer) have a problem with the merchandise you have bought in our web shop, please follow the above process. We will do our outmost to make sure your complaint is being handled correctly. Should there be a dispute you have the right to receive assistance from the European Union Online Dispute Resolution. You can read more about it at ec.europa.eu/odr.
Products
Why are certain products not visible for employees?
We have a range of products that are developed to represent your business. Staff & Profile segment are products sold in multipacks and/or with limited communication in hangtags, life cycle is longer and adapted for re-purchase.
Sale support range are different collections that have been developed to support the business in events and marketing in cooperation with a business area.
Can I add my dealer or event print on an item?
As a business customer you can add your company/event print, or a name print for an extra cost on a selection of items. They are marked with a customize symbol or you can view them all gathered in the customized page (only visible for business customers) https://www.merchandise.volvogroup.com/en/catalog/node/customize.
Please note that you may not make a return on products that have been personalized.


I can't find a certain product; can I get help to order outside the assortment?
If you miss something from the standard assortment or if you need something particular for an event, please contact our customer support. Provided an obtained Minimum order quantity, we can help in special requests.


How can I learn more about product care?
You can find wash and care symbols under technical specifications underneath the product image.
Are the products sustainable?
The production of most of our soft items is done in a sustainable way We have made a careful choice of organic cotton or recycled materials (or a combination of both) to enable a production with care for resources and people in production. A lot of these products have certifications connected to the production to secure that correct method is used. You will find all certifications for a product listed underneath the product detail view.
Why is the label in workwear clothes different from Lifestyle clothes?
We work together with ProJob, an expert on workwear, to secure a high safety standard. The products are branded with Volvo logo according to Volvo guidelines.
Who can I contact to ask product related questions or to come with product suggestions?
Please forward any questions or suggestions to support.merchandise@volvo.com.
Personal data & cookies
How is my personal data processed by Volvo Merchandise AB?
We value your personal data and are up to date with the GDPR legislation. Please learn more about personal data handling in our Terms & Conditions personal data section .


What are browser cookies?
A cookie is a small text file that the site you visit requests to save on your device. Cookies are used on many websites to allow a visitor access to various features.


Does Volvo Merchandise AB use cookies?
Yes, it is used to keep preferences such as login type and also to collect some statistics to help us improve user experience. We use two different types of cookies:
Session Cookies
A session cookie lives as long as your browser is open. When you close your browser the session cookie is lost. If you open a new browser, it creates a new session cookie.
Value Cookies
We save values that we use to retrieve your settings such as automatic login, sorting in lists, etc. in a database.


Can I disable cookies?
You can manage, restrict, or block cookies by changing the settings in your web browser. You can also change the settings so that your browser refuses all cookies, or only the third-party cookies. Also, you can remove any of your cookies that have already been placed. Please note that you will have to separately change the settings for each browser and device you use. Please be aware that if you do not want cookies, we can no longer guarantee that all functions on our web shops works properly. Each browser has a different method to adapt the settings. If necessary, consult your browser's "help" function to make the correct settings.
To disable cookies on your mobile devices please see your handset manual for more information. Learn more about cookies by viewing our cookie policy.
STANDARD DELIVERY

FREIGHT COST
ESTIMATED DELIVERY TIME
Sweden, Denmark, Finland

250 SEK

1-3 working days after orderconfirmation*

European Union

250 SEK

3-5 working days after orderconfirmation*

Norway
Calculated at Checkout

3-5 working days after orderconfirmation*

Non-EU countries in Europe
Calculated at Checkout
4-6 working days after orderconfirmation*
Rest of the world
Calculated at Checkout
8-12 working days after orderconfirmation*
Express Delivery

Please contact Customer Support
* EBD USER: The EBD purchase order needs to be approved by your manager before receiving an order confirmation.


Please note:
Orders placed before 11am (CET) will be processed and shipped the same day during normal business hours, Monday to Friday, excluding weekends and bank holidays.
NEW VAT REGULATION LAW ON CONTUMSER PURCHASES FROM JULY 1st
Cross-border value added tax (VAT) applicable to e-commerce is being modernised in the EU. The new EU VAT e-commerce rules are fit for a Digital Single Market and will ensure that VAT is paid where consumption of goods and services takes place.
Who is affected?
All orders that are performed within EU as private persons. This includes B2E/B2C order. Purchases made for your business (B2B orders) are not affected at all.
How does this affect you?
Apart for the web shop maintenance from 30th of June - 1st of July, this new regulation will not affect you as a B2B customer.
If you are meet the conditions of purchasing as an employee it will affect you the following way:
You will be able to shop as before but your account will be reset, and you are asked to choose country of delivery before putting anything in your shopping basket. The applicable delivery county VAT will be calculated.
Your basket will be cleared from items if you choose to change delivery country.
Any old order history will no longer be accessible, but you can keep your login and email address.
BREXIT
VGMS sells with delivery term "CIP" in accordance with Incoterms.
For UK business customers freight charges will be the same as for other customers outside EU meaning VGMS will charge freight depending on the weight for the delivery. The freight cost will be visible before checkout in the web shop. You can also check it unver "Freight cost" futher down on this side. Just ad your destination and you can see your freight cost (ex customs and charges) for each applicable weight.
All prices listed in the web shop are specified excluding freight costs. Customs duties, local taxes and other charges may add for deliveries to countries outside the EU and will be paid for by the customer.
Our logistics provider will assist with imports.
FREIGHT COST
Product prices in the web shop do not include freight cost. The freight cost is based on the shipment´s total weight, size and destination, which will be calculated in the checkout before confirming your order. If you choose another delivery method than our standard, the price will be adjusted accordingly.
Import taxes and/or duty costs may be applied according to current laws of the country where the goods are delivered to and are invoiced by that customs organization, not by Volvo Merchandise.

Choose country below to view an estimate of delivery cost in combination with shipment weight: